Independence Public Media Foundation Announces $2.8 Million in Film and Journalism Grants to 30 Projects and Organizations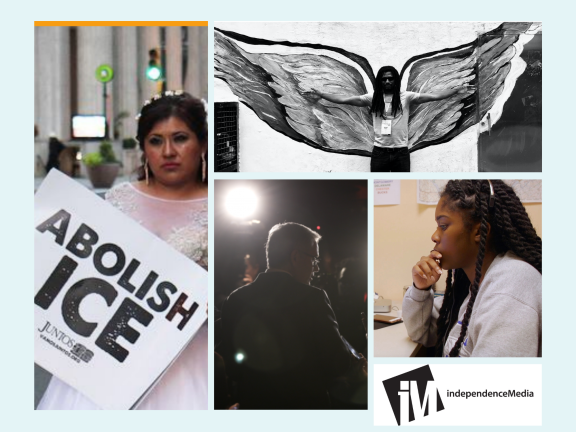 PHILADELPHIA, December 16, 2020 – The Independence Public Media Foundation (IPMF) announces a major investment in the local filmmaking community with grants totaling $1.3 million to filmmakers, festivals, and film organizations, with an emphasis on supporting artists from underrepresented communities, and films with a commitment to social justice. The foundation awarded the grants following a series of listening and learning sessions with local media-makers this fall.
This round of grants included a nominations process led by a committee of four women from diverse backgrounds and a deep understanding of the local film and media arts landscape. They awarded eighteen local filmmakers with grants totaling $400,000 to help them complete their film projects.
"I cannot wait to see so much beautiful and transformative work from the film community come to fruition in the coming year," said Nuala Cabral, IPMF's program officer. "We understand that filmmaking not only fosters community, it helps reveal truth, preserve memory, and spark joy and imagination in ways that better our democracy. These grants couldn't have happened at a better time."
Read Nuala's essay on what IPMF board and staff learned during listening sessions with the local filmmaking community.
The foundation also awarded a $1.5 million, three-year operating support grant to Resolve Philadelphia, a nonprofit dedicated to improving local journalism by connecting and building trust between local newsrooms and the communities they serve through collaborative, solutions-oriented reporting. Earlier in the year, IPMF provided a $1 million grant to help Resolve launch "Equally Informed Philly," a project to provide rapid response public health and pandemic-related news and information in multiple languages for the public, in response to COVID-19.
"Community media making and creative expression take on significantly more urgency during a crisis, particularly when people are cut off from personal contact with one another" noted IPMF President Molly de Aguiar. "We really felt that urgency, so we hustled to make grants that would keep people safe and connected during the pandemic, but we also laid a lot of groundwork this year for robust, community-led media making that helps people feel visible and powerful."
In total, the foundation awarded $7.7 million in grants in 2020 to a wide array of journalism, film, digital literacy, community storytelling, and media training organizations, projects, and research, reflecting the foundation's expansive definition of media. Additionally, IPMF made a number of grants this year to support media making for movement building that addresses police violence and community safety. The foundation also awarded nearly $800,000 in emergency support at the onset of the pandemic to its existing grantees.
Following are the details of the foundation's recent film grants:
Film Festivals
IPMF awarded grants of $100,000 each to three local film festivals: Black Star Film Festival, Philadelphia Asian American Film Festival, and the Philadelphia Latino Film Festival. These three operating support grants will help the festivals fulfill some needs and goals they identified, including paying their volunteer staff, supporting local filmmakers, and connecting with new audiences.
Documentaries
The foundation awarded grants to four documentaries:
American Prosecutor, directed by Ted Passon, is an in-depth documentary series that examines criminal justice reform in the era of Larry Krasner's tenure as Philadelphia's District Attorney. ($100,000)
Fly Baby, directed by Mike Africa Jr., gives an intimate look into the lives of revolutionary women through the eyes of their children. ($65,500)
Expanding Sanctuary, directed by Kristal Sotomayor, tells the story of a Latinx immigrant community's successful journey to change immigration legislation and protect families. ($50,000)
Abortion Helpline,This is Lisa, directed by Barbara Attie, Janet Goldwater, and Mike Attie, features counselors from the Women's Medical Fund responding to phone calls from women seeking help. The film explores the economic stigmas and legislation that determines access to abortion in the U.S. ($25,000)
Film and Video Training Programs
IPMF made three grants to organizations that provide film and video training:
POPPYN – a social justice media training program for high school students in Philadelphia ($60,000)
Shooters – a professional digital media skills program for formerly incarcerated individuals ($60,000)
5 Shorts Project – a program that teaches individuals how to produce video, film, and theatre content to create media that represents diverse cultures in society ($15,000)
A Retrospective of Short Films Celebrating Philadelphia
PhillyCAM received $200,000 to present an eight-week retrospective of the eight seasons of Philadelphia Stories, which were short films by local filmmakers commissioned and broadcast by the former WYBE television station (IPMF's predecessor). As part of the grant, PhillyCAM will also solicit and premier new stories to add to the collection. The retrospective will coincide with the 20th anniversary of when the series debuted.
Nominated Filmmaker Projects
Childless, directed by Iris Devins, is a sci-fi/drama feature film about a trans woman who pursues an alternative fertility treatment at a rogue lab in Denmark, where she uncovers a plot to revive eugenics through gene editing and must fight to save her new son and the universe. Childless not only explores the ethics of science but is deeply committed to illuminating trans motherhood and developing a character arc that moves from a need for biological motherhood to chosen motherhood through adoption. In doing so, the film hopes to create a piece that all women—no matter their background—find relatable. ($35,000)
The Dilemma of a Bird Caught in a Mirror, directed by Marie Alarcón, is a soft-horror fever dream where a femme's psyche splits as she struggles through societal expectations on the eve of her birthday. This is an approximately 25-minute fiction short film, featuring an all POC (people of color) cast, addressing identity, conformity, disability, mental health, and transformation. Drawing on absurdist theater, existential nihilism, queerness, and their intersections with disability, this film is influenced by the underground aesthetics of filmmakers like Jodorowsky, Lynch, and La Nouvelle Vague experimentation to tell the story of a main character's nervous breakdown and eventual recovery and transformation. ($35,000)
Epistles of Love, The Gospels According to Edgar & Clara, directed by Lois Moses, is a work-in-progress based on a series of letters exchanged between Edgar Wilson and Clara Moses-Wilson from 1936 to 1939. Through their exchange, we bear witness to the complex intersections of race, health, economics, and the impact that WWI, the Spanish Flu Pandemic, the Great Depression, and the Great Migration had on the lives, love, and marriage of African Americans. ($25,000)
Before Black Lives Matter and the Civil Rights Movement, there was the Haitian Revolution! Ulrick, directed by Tatiana Bacchus and produced by Stephanie Malson, features Master Artist Ulrick Jean-Pierre, a twoubadou (troubadour) and guardian of history who has been tirelessly depicting Haiti's story on canvas as the first country to lead a successful slave revolt and the first free black nation. Ulrick's paintings also depict the deep historical connections between Haiti and the United States and especially New Orleans. ($25,000)
Wisdom Gone Wild, directed by Rea Tajiri, is a personal documentary following a sixteen year caregiving journey into dementia for Rose Noda, a Japanese-American woman and her filmmaker-daughter Rea. The film follows a non-linear structure going between hospice, early onset, and mid-term dementia; mirroring Rose's own erratic travels through time. ($25,000)
La Lucha Sigue/The Fight Continues, directed by Melissa Beatriz, centers immigrant rights leaders who are calling for the Berks Detention Center, one of three prisons that detain immigrant children, to close. Characters such as a mother from Mexico who is teaching her kids about social movements, and an elder who spent part of his childhood in a Japanese internment camp, explain how the immigration industrial complex has impacted various communities of color. The characters portray how to hold elected officials accountable and organize on a local level through art, storytelling, and creative actions. ($25,000)
One Way, directed by Raphael Xavier, is a narrative short film about Eli, a 17-year old Black boy navigating his identity at the intersection of street life, bike culture, and a family conflict with deep roots. ($25,000)
Hold It Down, directed by Rashid Zakat, is a music history documentary focusing on the DIY, site-specific characteristics of the West Philadelphia House Music scene from 1998 to 2006. The interactive documentary series engages in a kind of Black digital culture archaeology which collects and reassembles images, videos, sounds, and oral histories from the West Philly House music scene to tell the story of a neighborhood's immense cultural impact across place and era. ($20,000)
Life Beyond Life, directed by Madeline Hunt and Wren Rene, is a collaborative short hybrid film about women's re-entry experiences. After successfully fighting to have their juvenile life sentences cut short, four women in Philadelphia use a collaborative film process to visualize their experiences, struggles, and dreams as they face a new world upon re-entry. Each woman was sentenced to life in prison as juveniles and collectively they served over 140 years. Life Beyond Life will be an intimate conversation between resilient, hopeful women who have much to share with their sisters still incarcerated and the outside world. ($20,000)
Ave Maria, directed by Tristan Seyek, is a documentary that follows a Puerto Rican celebrity chef who cooks to save the spirit of his homeland in the wake of Hurricane Maria, the catastrophic breaking point for an island ensnared by colonial-era laws and an insurmountable debt. Could something as intrinsic as food be the key to Puerto Rico's future? ($20,000)
InVade, directed by Eunice Levis, tells the story of an 8-year-old boy who is detained along with his father during an ICE raid. The father and son are separated, prompting the son to escape and venture out to find him. ($20,000)
Another Life, directed by Yolonda Johnson-Young, explores the childhood experiences of the filmmaker and her family in the Federal Witness Protection Program (which provides for the security and safety of government witnesses). Johnson-Young crafts a journey of discovery using memory, personal photographs, archival footage, and interviews that puts the pieces of her life back together. ($20,000)
in love, in memory, directed by Shalon Buskirk and Drew Swedberg, follows a mother, in the wake of her son's murder, as she moves into community activism, assembling personal and collective memories to reframe an intimate loss within her city's haunting legacy of systemic violence. ($20,000)
TTYLORNOT: Theology Talks You Like...or not, directed by Dasha Saintremy, is a docu-narrative film series that shares stories on "The other" experience understanding God, the divine, and spiritual journeys. This multimedia project was created to bring visibility, accessibility and vocal-ability to those who are often left out and not considered in the divine imagination, and are seeking a liberating transformative experience. ($20,000)
Esperanza Ramirez Fights Zombies!, directed by Les Rivera, is the sequel to Papi Ramirez vs Giant Scorpions. Still dealing with the pain of her brother's death at the hands of the police, new mom and karate expert Esperanza "Mami" Ramirez will have her moral compass and karate skills put to the test against a computer hacker who has developed a phone app that turns white people into anti-racist zombies. While the app could secure the safety of her Afro Latino newborn son in a white supremacist world, it may come at a greater expense. ($20,000)
Smile 4 Kime, directed by Elena Guzman, is a collaborative autoethnographic documentary that explores the mental health journeys of two women: Kime, an African American woman who lived with dissociative identity disorder after a series of sexual assaults and Elena (the director), a Puerto Rican woman dealing with depression and grief after the death of Kime. The film incorporates interviews, experimental/performance footage, and animation to explore grief, friendship, and intimacy across mental illness, considering important themes of race, gender, and mental health. ($10,000)
Sound Mind, directed by Eli & Lu Bevins, is a cinematic mix-tape consisting of 12 short films that focus on messages of hope and inspiration, all while putting the lens on hard to discuss but necessary topics. The mission of the film project is to enlighten, educate, and promote action for change. ($10,000)
Legacy Network for Black Creators by Kindred Presents. Music duo, Kindred the Family Soul, will build the Legacy Network for Black Creators, which will feature their original video series along with other local and national filmmakers to showcase documentaries, shorts, and feature length films. The Legacy Network aims to bridge the gap between filmmakers, media artists, and audiences through curation and distribution by increasing the visibility of stories that heal and speak to the importance of culture, family, music, and love. ($25,000)
For more information, contact Enni Aigbomian, enni@independencemedia.org
###