Independence Public Media Foundation Announces $485,000 in Support of 24 Local Films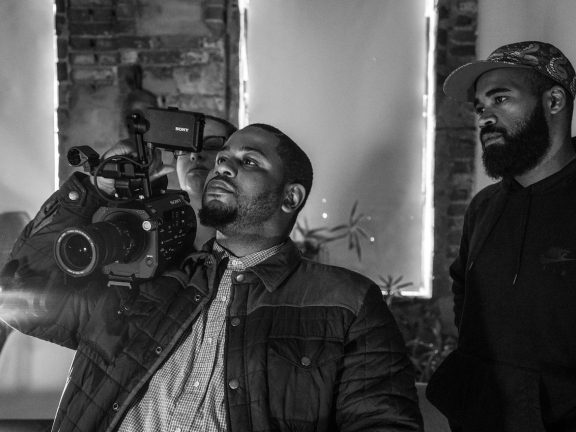 PHILADELPHIA, November 3, 2022—The Independence Public Media Foundation (IPMF) announces grants totaling $485,000 in support of independent filmmakers and film projects in the Philadelphia region.
IPMF took a new direction with its community-led grantmaking process this year by hiring local filmmaker Kristal Sotomayor, a recipient of the 2020 film nominated-grant, to facilitate the nominations process alongside a diverse group of four local filmmakers and advocates.
"It was a humbling full-circle experience to facilitate the IPMF nomination process as a former grantee," said Kristal Sotomayor. "Working with the nominators, it was a pleasure to lead the process with special consideration given to the projects' lasting impact on our communities."
The nominators selected a total of twenty-four projects to receive funding. The filmmakers will join the 2022/23 Filmmaker Cohort program which provides beyond-the-grant support to IPMF-funded filmmakers such as capacity-building workshops, skill-sharing and networking.
"Through the film nominations process, we can see firsthand that those in the filmmaking community are best positioned to make the grant decisions," said IPMF President Molly de Aguiar. "This process, which is in its third year now, has helped us lay the groundwork to expand our community-led grantmaking work, which you will see more of from IPMF in the coming months and years."
The 2022 nominators each recommended 2-5 local filmmakers to receive grants from IPMF. The funding criteria prioritized making grants to filmmakers from underrepresented groups based in the Philadelphia region. Other criteria included: the filmmaker's relationships with their community, their demonstrated commitment to social justice, and the timeliness of their project.
The 2022 Nominated Film Projects Are:
Sugod to Home! Directed by Anito Gavino, is a dance documentary about three Filipino-Americans visiting the Philippines: one grew up in the Philippines, one returns annually to see family, and one has never been to the motherland. The documentary captures their process as they return home, faced with the reality of post colonialism, and awakening to their own romantic notions of indigeneity. The three collaborate as film artists behind and in front of the lens. ($25,000)

Immigrant Mothers, directed by Gabriela Watson-Burkett, is a documentary feature-film about the challenges that immigrant women of color face throughout pregnancy and the initial stages of motherhood. Blending poetic and vérité styles, the film connects the director's personal journey to the experiences of other Black and Brown immigrant women giving birth away from home. The topics discussed in the documentary range from navigating racism in the health care system to reflecting on the societal expectations of being the "perfect mother." ($25,000)

Love Jawns: A Mixtape II, directed by Yolanda Wisher, is a sensory-rich short film created by a multidisciplinary team of Philly artists and residents. At the heart of the film is an epic poem created by a writers room of Black and Brown women with lived experiences of poverty and economic struggle. The film will illustrate the poem and the women's journeys towards economic justice against the backdrop of the SEPTA bus 23 route, a former Indigenous trade route and a major artery of Philadelphia's transit system. ($30,000)

Della Can Fly! Directed by Jasmine Lynea, is a supernatural sci-fi film that relieves a Black family from a misunderstood past. Traveling with her mom and dad to her late grandfather's home for the first time, Amala, a curious, differently-abled 10-year-old girl downloads a new update to her smart glasses that manipulates a still image to move backward and forward. As the grieving family argues about selling the house and placing their senile great-uncle into a nursing home, Amala puts her new technology to the test and discovers a family secret hidden within her living great-great-uncle's library of family photos. ($25,000)

Untitled, directed by Ariel Goodman, explores the culinary culture of immigrant farm workers that comprise the backbone of the US food system and power the Vermont dairy farm industry. The farmers' lack of access to transportation, coupled with the presence of ICE in their communities and the fear of deportation, means that accessing ingredients to prepare traditional meals is difficult or impossible. This documentary follows the story of an underground network of women who bring popular Central and South American ingredients to rural dairy farms throughout the state, connecting farmworkers back to homemade meals and to one another. ($25,000)

Genet, directed by Sosena Solomon, pays tribute to her long-lost sister Genet through a film-based installation project in which she captures Genet's truly remarkable life. Living with HIV is still deeply misunderstood and stigmatized in the Ethiopian diaspora and even within her family. This work attempts to unsettle the culture of shame and stigma which isolates people from their families and creates cycles of harm and mistrust. ($25,000)

La Guagua 47, directed by Pedro Escárcega and produced by Alba Martinez. "La Guagua 47" is a community cultural production that has engaged hundreds of Philadelphia artists, volunteers and community members in its creation. It is based on a story that was made into a song about a life-changing bus ride: Ritmo Lab - La Guagua 47. The film tells a universal story of migration, belonging, and finding home in one another: a young Latinx migrant arrives in Philadelphia feeling very alone. One day she discovers the iconic SEPTA bus 47 and embarks on a journey that changes her life. The film introduces the significance of SEPTA's bus 47 to the thriving and inspiring culture of Philadelphia's Latinx community. It reimagines the 47 bus as a central character in helping communities find joy and belonging and demonstrates how public transportation supports society, prosperity, and multiculturalism. ($9,500)

Eric McPherson: Living History (working title), directed by Kiameshia McPherson, is a film profile about Eric McPherson, a prolific jazz drummer born and raised in New York. The film will explore the history of jazz in relation to New York City, revealing how an immersive jazz and hip hop culture of the 60's and 70's directly influenced McPherson's work. In comparison to the commodification of these cultures today, the filmmaker will explore how talent needs to be nurtured both inside and outside a classroom. ($25,000)

Bumpa, directed by Kayla Naomi Watkins, is a short documentary that uses Afro-Caribbean dance, whining, and Black American dance styles to analyze respectability politics, pressures to accommodate whiteness, and criticism of sexual expression imposed on Black people. The film will intercut archival footage, expert opinion from elder dancers, as well as testimony from Black American and Caribbean people who are familiar with these dances. These interviews will be framed with some of the interview subjects dressing up to go to a dance party with Black American and Caribbean music. ($19,000)

The Claudia Jones Project, directed by Farrah Rahaman, is an experimental study circle, research collective and grounding space for deep reflection and interpretation of the life and legacy of the anti-fascist Trinidadian cultural worker, Claudia Jones. The project will culminate in a film based on the eponymous figure, who was a Harlem based labor organizer, journalist, mentee of W.E.B DuBois, communist party leader, 'proto-feminist' and author of "An End to the Neglect of the Problems of the Negro Women" (1949). Jones' activism and writing led to multiple arrests, extensive FBI surveillance through the Smith and McCarran Acts, and her imprisonment and deportation to the United Kingdom. During her time in London, Jones deepened her relationship with the burgeoning West Indian, African and South Asian communities, created the West Indian Gazette and founded the first diasporic Caribbean Carnival—the Notting Hill Carnival. ($30,000)

Dialogue, directed by Marcus Branch. Sitting in the middle of a cypher with his peers, Marcus begins a train of thought that invites us into his colorful mind. He navigates running thoughts, conflicts, and questions about identity, sex, injustice, and gender. Composed of vignettes to resemble the sequence of thoughts or a dream, the film explores this dialogue through dance, poetry, fashion, and vividly varying visuals with the goal of not having all of the answers but to share a dialogue that was once reserved for one's self. ($15,000)

Affordable Housing, directed by Wi-Moto Nyoka & Eunice Levis. When Constance moves into a suspiciously cheap apartment with socially-challenged roommate Hailey, both women discover the truth behind the apartment's low price and must fight for their right to affordable living. "Affordable Housing"" is based on a true story of trying to find an apartment in NYC. The film delves into the hardships—taking moments for comic relief—that come with the continued rise of the cost of living, nationwide evictions and subsequent protests. ($25,000)

A Lock of Hair, directed by Amadee Braxton, follows a sister and brother on a quest to solve the mystery of who their paternal grandfather was. Both have a hunch that this unanswered question contributed to their father Marvin's early death from heart disease. Their process of discovery links up their spiritual intuition with the latest health science on epigenetics and intergenerational trauma. ($18,000)

Reparation Station, directed by Marguerite Hemmings, is a series of short episodes that explore the idea of reparations in both practical and absolutely fantastical ways. Based on the Latin root of the word, 'repare': to make ready again, this series asks how Black artists are getting ready again. ($20,000)

Trading Stories, directed by Aaron Brokenbough. Declan Townsend is a young writer who reluctantly moves back to his hometown in Vermont. There he learns that his estranged mother has slipped out of remission and she's deliberately kept this news from him. Through yoga, tough conversations, and trading stories, a family tries to rebuild. "Trading Stories," is a comedy-drama short film that explores the themes of redemption, healing, and acceptance. ($20,000)

Looking Forward to Reentry, directed by Jeffrey Abramowitz, will provide information and engage in discussions about the justice system. The show will highlight legislation, government officials, agencies, and programs, and individuals working to reform the justice system. ($20,000)

Ambitious, created by Jenna Lam and Samantha K. Tan, tells the story of Samara, an impatient, bold Vietnamese-Cambodian-American girl who is determined to show her independence and drive as a college-dropout. On her quest for validation she has to sort out her new lifestyle, and relationships, and prove to her immigrant mother she has what it takes to succeed. Pressure makes diamonds. Or crushes them. ($25,000)

You Don't Have to Go Home, But…, directed by Aidan Un, is a documentary film about the legendary Philadelphia hip hop party Second Sundae and the dancers who attend. The film follows three dancers at different stages of their lives on and off the dance floor. Through glimpses into their daily routines, struggles, and dreams—in addition to a decade of archival footage of Second Sundae parties—the film explores "where do people go after the music stops and the lights come back on?" And "what draws people back to the dance floor?" ($25,000)

Paper Trail, directed by Rachael Morton. In rapidly gentrifying North Philadelphia, two genius Black siblings, at risk of eviction, begin doing the coursework of local college students in exchange for cash. When one of their clients, a white woman, goes viral from an essay they wrote, the siblings are faced with a moral dilemma: allow their client to publicly use their voices, or be caught in the center of a cheating scandal. ($20,000)

¿Y Nosotr@s que? Directed by Brujo de la Mancha. The beginning of the pandemic ignited most people's fears about the future but others, even with this fear, had no choice but to go out and work toward an uncertain future. The COVID-19 pandemic increased awareness of and appreciation for frontline, essential workers. However, undocumented Indigenous immigrants are a group of essential workers that are not receiving the same levels of appreciation, awareness and economic relief. ($3,500)

Fox Chase Boy, directed by Gerad Argeros and Tara Culp. Weaving together live performance footage, raw personal interviews, nostalgia, and humor, "Fox Chase Boy" gathers a Northeast Philadelphia neighborhood Catholic community into reflection around a long unspoken history of collective trauma and abuse. Conceived as a DIY supplement to an incomplete public record, "Fox Chase Boy" documents the early, improvised efforts at a reconstruction and reclamation of a deeply personal narrative through the communal energy and exchange of live performance and storytelling. ($20,000)

I Spoke to a Tomato Plant, directed by Christian Hayden. A man who has a green thumb and a big presence recounts his journey out of addiction as a thread emerges among other gardeners in West Philadelphia. People share their realization that talking to plants aids them in surprising ways. ($10,000)

Falaka Fattah and The House of Umoja, directed by Jos Duncan Asé. A global pandemic, demands for racial justice and over 1200 deaths in Philadelphia have led community members searching for solutions to violence. At 90 years old, Falaka Fattah is meeting with activists and organizers in her home to offer resources, strategy, and history. Fifty years ago, she started The House of Umoja by moving active gang members into her home and drastically reduced gang-related deaths in Philadelphia. By calling together former gang members, community leaders, and today's leaders, Falaka hopes her methods for saving young lives then, can be used now as a foundational model to decrease the brewing violence that is taking a record number of young lives in Philadelphia. ($25,000)
Click HERE to learn more about each filmmaker and grant.
For more information, contact Enni Aigbomian, enni@independencemedia.org
###