Independence Public Media Foundation Announces Jamila Medley as Board Chair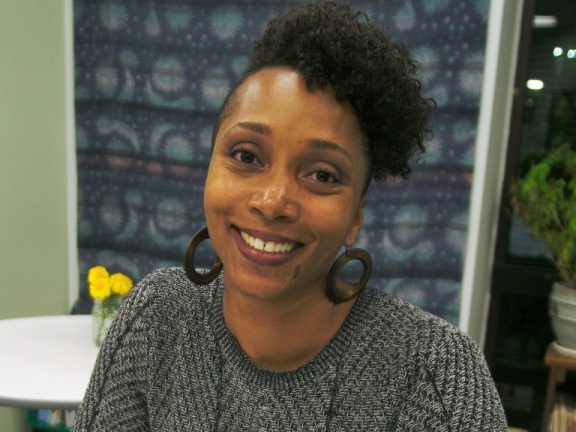 PHILADELPHIA, October 19, 2023 – The Independence Public Media Foundation (IPMF) announces the board of directors' appointment of Jamila Medley as board chair. Medley succeeds René Smith, the foundation's first board chair who dedicated 25 years of service to the board of directors of both IPMF and its predecessor, WYBE Channel 35.
Jamila Medley joined the IPMF board in 2020 and brings over two decades of experience serving mission-based organizations in the nonprofit and cooperative sectors. Her expertise in nonprofit governance and in solidarity economy building informed the foundation's strategic planning around centering equity and justice in its governance and operations. In addition to the IPMF board, Medley serves on the board of the Food Co-op Initiative and served on the board of directors—including as board chair— for Movement Alliance Project. She was previously the executive director of the Philadelphia Area Cooperative Alliance (PACA).
"I am honored to follow René as IPMF's board chair and I appreciated having her full support as I transitioned into this role. I've been privileged, during my past three years on the board, to witness the foundation emerge as a regional media funder that's committed to justice and racial equity," said Jamila Medley. "I am excited to work with Molly, the IPMF staff, and my fellow board members as the foundation continues supporting media and media-making for liberation, joy, memory, and belonging."
René Smith, an experienced executive with over 20 years profit and loss responsibility in rapidly growing, technology-driven companies, joined the WYBE board in 1998. She played a key role in the organization's transition from a public television station to a private foundation, advising around WYBE's sale of its broadcast license as part of the Federal Communications Commission's Broadcast Incentive Auction. Smith continued serving as chair of IPMF's board as the organization emerged as a regional grant-maker.
"Rene has been a wonderful champion for community media in the region for decades. She fostered a collaborative and thriving organization as chair of IPMF, and ensured a seamless transition for Jamila, an inspiring and generous leader, to step in as our new chair. We are all excited for the foundation's next chapter," said IPMF President Molly de Aguiar.
The board of directors also re-appointed Omar Woodard and Sidney Hargro to the roles of treasurer and secretary, respectively.
Woodard joined the board in 2020 and has over a decade of experience working in venture philanthropy, management consulting and foreign and U.S. government relations. Hargro, a respected philanthropic leader and social impact strategist committed to advancing racial equity and justice through philanthropy, joined the board in 2019.
For the complete list of IPMF board of directors please visit our team page.
For more information, contact Enni Aigbomian, enni@independencemedia.org
About Independence Public Media Foundation
Formerly known as WYBE Channel 35, Independence Public Media Foundation was founded in 2018 when WYBE sold its broadcast license as part of the Federal Communications Commission's Broadcast Incentive Auction and received a one-time payment of $131.5 million. With these funds, IPMF supports Black-led, Indigenous-led, and people-of-color led media organizations and media making projects that help communities build their narrative power for equity and justice.