Independence Public Media Foundation Announces $500,000 in 2023 Local Filmmaker Fund Grants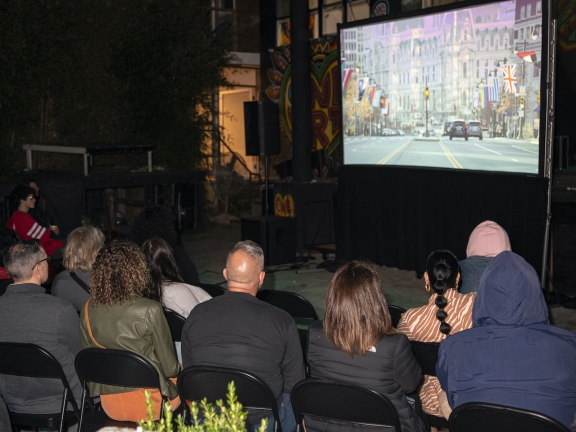 PHILADELPHIA, October 26, 2023—The Independence Public Media Foundation (IPMF) announces $500,000 awarded to 23 film projects through its Local Filmmaker Fund. The Fund awards one-year grants to support filmmakers across the Greater Philadelphia region with the development of their films and to gain skills to further hone their craft.
IPMF partners with an alternating panel of local filmmakers and film advocates to select each year's Local Filmmaker Fund recipients. This community-led grant-making process aligns with IPMF's vision to share and shift power with the community in pursuit of justice and equity.
Read IPMF Program Officer Nuala Cabral's conversation about the local film landscape with Kristal Sotomayor, a local filmmaker who facilitated the Fund decision-making process.
The following are recipients of the 2023-2024 Local Filmmaker Fund grant:
DOCUMENTARY
Dance Legends of Philly, directed by Cassie Owens. "Dance Legends of Philly" follows a community of Black elders who gather weekly for partnered dancing. This feature documentary will explore how the community has survived, how their dances reflect generations-old traditions that are at-risk, and why younger generations dance differently yet still move like their elders. ($40,000)
The Full Never Told, directed by Amari Johnson. "The Full Never Told" is a documentary about the story of the Dread Act Period (1974-1981) when Rastafarians on the Caribbean island of Dominica were actively and violently persecuted for their religious and cultural beliefs. ($40,000)
Barrio Television, directed by Christina di Pasquale. "Barrio Television" is a documentary series about the Puerto Rican activists who, in a fight for authentic stories and media power, created the first bilingual public affairs series for Latinos on national television. The documentary highlights how this struggle for narrative power continues to this day. ($25,000)
Miwa, directed by Lunise C. Cerin. "Miwa" traces sounds and stories of the Haitian diaspora with film and music. This documentary maps the rituals that bind generations of Haitian women, bridging roots across the diaspora and forging new paths. ($10,000)
Beautiful Struggle, directed by Zareefa Abdul-Adl. This documentary series follows three unique married couples who are leaders, entrepreneurs, and social media influencers. The couples strive to sustain healthy marriages while making an impact on the Philadelphia community as they uphold faith, break down barriers, work through personal and professional obstacles, and build bridges that support universal growth. ($10,000)
And Breathe, directed by Arraiyan DuBose. "And Breathe" will follow a Black Muslim woman's journey as she undertakes the challenge of learning to swim. Touching on themes of Black women in American society, body image, anxiety, and phobias, the documentary film will capture the difficult, humorous, and emotional stages of an unconventional young woman moving out of her comfort zone and into the deep end. ($25,000)
Harvest Time, directed by Tim Foster. A short documentary film about local gardening movements in urban food deserts and the impact of healthy food on individual health, the family structure, and community health. The film will explore the intersection between the liberation of Black and Brown communities and growing their own food. ($5,000)
NARRATIVE
The Invited, directed by Anyawabile Love. This narrative film tells the story of an aging musician who confides in his young student about his past, his mysterious instrument, and the truth about his historical performance. ($15,000)
Crowned, directed by Keyssh Datts. For the production of "Crowned," a story of a teenage boy from Philadelphia, whose mother is shot and killed, and his journey towards inner peace, self-transformation, and justice. ($20,000)
La Casa de Luz, directed by Selina Morales. For the development of "La Case de Luz" a narrative drama about a woman whose world is turned upside down when she returns to Puerto Rico to care for her grandmother (Abuela), who suffers from late-stage dementia. ($20,000)
MAMABABY, directed by Xenia Matthews. For the development of "MAMABABY" an experimental body-meld time travel adventure of Baby's, the main character, quest to grow closer to Mama in the aftermath of her abortion—an abortion that reminds Mama of several of her own. ($20,000)
Chasing Dia, directed by Stephanie Malson. Chasing Dia centers on a ten-year-old Black girl's (Dia) first summer camp experience and her parents' pending divorce. On the first and last day of camp, Dia discovers a series of astrological riddles amongst the things she's brought from home. Each piece of the riddle leads Dia on a wild chase that includes serendipitous encounters with people who offer clues to the riddle while teaching Dia about community, love, friendship, and forgiveness. ($30,000)
Click, directed by Kaloni Davis. A narrative film about 12-year-old Kyle and his teenage brother Travis who are constantly at odds with each other as they mourn the recent death of their scientist father. With help from a band of middle school friends, Kyle and Travis use their knowledge of old sci-fi films and real science to defend their small suburban town from an alien invasion. Along the journey, they rekindle their sibling bond and heal from the loss of their father. ($25,000)
House Of Healing, directed by Khadir Cade. This horror film tells the story of Devin Jones, who after being out of work for a couple months due to a car accident, finds out he is cut off from his health insurance plan. Unable to pay for his physical therapy that was being covered by his insurance plan, Devin looks to take an alternate route for pain relief. However he quickly finds that his life is about to be changed forever. ($20,000)
Kick, directed by Darrelle D. Williams. This drama series tells the story of Naomi Carter, a promising soccer player from North Philadelphia, as she begins her freshman year at Douglas High, where she faces a demanding coach, a teammate who is out to prove she's a superior player, and the public pressure to conform to an image she is not ready for. ($25,000)
SILK, directed by Ingrid Raphael. This narrative film tells the story of Omossa who, haunted by her mother's disappearance during a catastrophic flood, rescues an unfamiliar person from the river, unlocking the truth about her own mother. ($25,000)
queer memoirs, directed by Darien Woodard. "queer memoirs" is a coming-of-age comedy series about three 20-something queer roommates who are navigating dating life, adulthood, and friendship while seeking guidance from an anonymous rising blog writer. ($20,000)
EXPERIMENTAL
Blacked Out, directed by Saladin White II. An experimental drama about a functional alcoholic who is forced to confront his demons when enrolled in a secret magical rehabilitation program. ($20,000)
The Word for World, directed by cybee bloss. For the production of "the Word for World," a short, poetic animation that illustrates the struggles and dreams of six people across Philadelphia fighting to protect their homes and neighboring forests from development. ($20,000)
HYBRID
In Excess, directed by Melissa A Langer. For the development and production of "In Excess" a portrait of Philadelphia and its trash. As communities around the world reckon with an unprecedented amount of waste, this experimental documentary interrogates how gentrification, organized labor, environmentalism and corporate interests have tangled with the struggle against a rising tide of waste. ($35,000)
Bodylines, directed by Natasha Cohen-Carroll. This experimental documentary tells the story of Dayla, a dancer and drag performer, and the exploration of her relationship to the body as a Black and trans woman. The film will address the realities of racism and transphobia through Dayla's stories of the body as a focus for identity, affirmation and vision. ($20,000)
Shattered, directed by N. Rae Shaw. For the production of "Shattered," an experimental documentary about seven black women attempting to escape stereotypes thrust upon them and build new realities. ($10,000)
GABARDINE, directed by David Gaines. For the development of an interdisciplinary, multimedia one-person poetry show about reparenting, the act of giving yourself what you didn't receive as a child. ($20,000)
IPMF is proud to support Greater Philadelphia local filmmakers as they amplify the experiences and voices of diverse and marginalized communities.
Click here to explore our grant database.
For more information or if you have questions or feedback, contact Enni Aigbomian, enni@independencemedia.org.
About Independence Public Media Foundation
Formerly known as WYBE Channel 35, Independence Public Media Foundation was founded in 2018 when WYBE sold its broadcast license as part of the Federal Communications Commission's Broadcast Incentive Auction and received a one-time payment of $131.5 million. With these funds, IPMF supports Black-led, Indigenous-led, and people-of-color led media organizations and media making projects that help communities build their narrative power for equity and justice.