Nurturing Filmmaking in Philly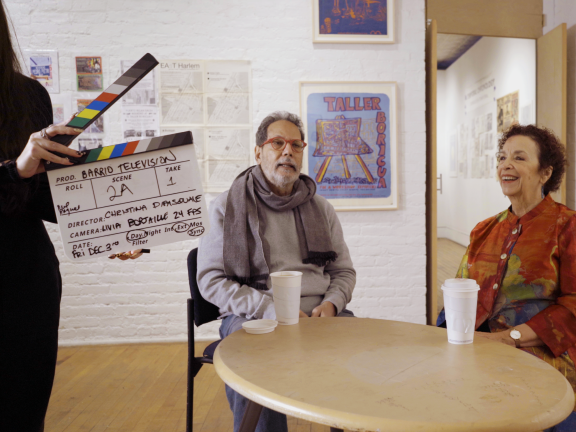 A Conversation on Film Funding with Kristal Sotomayor
Since its beginning in 2019, IPMF has supported local independent filmmaking and the film organizations that nurture this community and expand audiences for their work. This commitment is connected to IPMF's roots as a community television station (WYBE) that amplified the work of local independent filmmakers.
This year, IPMF's Local Filmmaker Fund received 71 applications, and 23 film projects were selected for grant awards totaling $500,000. The projects span various genres: documentary, narrative, experimental and hybrid. We are eager to announce this new slate of local filmmaker grantees who are telling stories from queer youth in North Philly to Puerto Rican media activists in NYC to rastafarians in the Caribbean island of Dominica and beyond.
Teaser for "The Full Never Told," directed by Amari Johnson.
The Local Filmmaker Fund has been particularly transformative for Philadelphia-area filmmakers, who receive capacity building and coaching support along with their grant award. For most filmmaker grantees, the IPMF grant is the largest grant they've received, enabling many folks to actually complete a film. With a grant in 2020, Eunice Levis directed InVADE, a futuristic film about an undocumented Afro-Latine father navigating a climate disaster.
Filmmakers have expressed that getting an IPMF grant has helped open doors to other opportunities. After receiving the Local Filmmaker grant, Eunice became a Netflix/NALIP Women of Color Short Film Incubator fellow and produced a second short film, RO & THE STARDUST that won Best Narrative Short at the Reel Sisters of the Diaspora Film Festival, an Oscar qualifying category. Meanwhile, Eunice has shared her expertise and gifts with IPMF as a guest speaker for peer grantees and as a panel member for this year's Film Fund cycle.
Since 2022, IPMF's process to award grants to local filmmakers evolved into an open call process. Film project proposals are reviewed by a panel of local filmmakers who make final decisions without influence from IPMF board or staff. The panel deliberation process is facilitated by a member in the film community, who helps the panel reach consensus.
Kristal Sotomayor is a filmmaker we hired to facilitate panel deliberations in 2022 and again this year. Kristal is also a curator, an advocate for independent filmmaking, and a previous Local Filmmaker Fund grantee. After receiving the grant in 2020 for their first short film Expanding Sanctuary, they are working on their second short film which was awarded a fully-funded Creative Hope Initiative Fellowship through Outfest and Traverse32.
We're excited to share our conversation with Kristal, getting her perspective on Philadelphia's filmmaking community and its relationship with philanthropy.
Nuala Cabral: What does the local filmmaking landscape currently look like? What are some exciting developments in Philly's filmmaking community?
Kristal Sotomayor: Philly filmmakers and artists are resourceful and resilient. The community always comes together to support important stories. Our local artists also have a beautiful commitment to the city, making art that impacts our communities, which isn't always seen in other places.

Nuala: How accessible are current funding opportunities? What are existing barriers to entry?
Kristal: The local funding landscape is very sparse. The current funding opportunities in Philadelphia are few and often provide little funds. Most local grants range from $500 to $10,000. The average cost of a fully funded short film (5-25 min) is around $50,000. This funding would pay everyone involved in production (usually at a reduced rate) including the directors and producers, who often go unpaid. The average cost of a very low-budget feature-length film ranges from $150,000 to $500,000. So, local grants (that are accessible) don't even make a dent into a film's overall budget yet expect the filmmakers to run entire impact campaigns to fulfill grant expectations.
Especially, when inflation is high across the country, filmmaking has gotten far more expensive making any cost-cutting measures almost impossible. There need to be more funding resources in the city that actually support artists to flourish. And it's hard to get through to other local funders like Pew, William Penn and Wyncote who give grants over $10,000. National funders often require a filmmaker to be well networked and resourced by other foundations. IPMF is filling a void for the working class filmmakers who have no money. When IPMF is the only grant available to so many filmmakers, it causes challenges because not everyone can be funded at the level they need.
Other barriers to entry include access to grant writing resources and support. Trying to apply for grant funds is very difficult and a whole new form of writing. Many local granters also do not adhere to the Nonfiction Core Application Project, which is a defined set of questions used for major nonfiction grant applications. Using these questions ensures that filmmakers don't have to write brand new applications for each grant they apply to. Many, if not all, of these questions are also applicable for grants funding fiction films. Along with that, there needs to be support for filmmakers to build businesses and set up the roadmaps for their long-term filmmaking careers.
Finally, a national problem with the funding of arts is that there is little national or local government funding for the arts. Until art is seen as essential to the fabric of Philadelphia's cultural identity, artists will continue to rely on private donors and foundations whose interest in funding the arts fluctuates.
Nuala: What are your observations about IPMF's approach to support the filmmaking sector? Are you seeing an impact? Are there things IPMF can do better?
Kristal: IPMF fills a massive void in the local filmmaking sector. Before IPMF, the most a filmmaker could expect in project based funding was $2,500 to $5,000. Many other local grants only fund social change projects while IPMF also values a filmmaker's artistic intent meaning that filmmakers are able to explore different topics or communities to make a film. IPMF has provided more funding to filmmakers than other granters. I hope that IPMF continues to value funding large portions of a filmmaker's production, trusting a filmmaker's intent, as they move forward.
IPMF's impact has been immense. They have funded grassroots films and organizations to award-winning and large organizations. Their funding and support has helped to solidify many of the filmmaking opportunities in the city. They have made it more possible to be a working artist in Philadelphia. However, I hope additional funders are able to provide additional support to ensure a robust filmmaking industry.
In terms of improving IPMF's film fund process, I recommend that the foundation use the Nonfiction Core Application Project. Also, being the only local foundation that is supporting working class filmmakers at levels of $10,000 and above, this comes with a lot of responsibility. As more and more filmmakers apply to the Film Fund each year, IPMF will need to grapple with the realities that the need outnumbers the amount of funds that are available to be given and every project is worthy.
Like many private funders nationwide, the question about whether they want to fund many projects or fund fewer projects more deeply will become more important to balance as the filmmaking ecosystem grows. Perhaps this decision fluctuates based on where the economy is each year. It's important to grapple with this dilemma with care and intention. However, this issue only comes about because IPMF is the only accessible large funder of arts in the city. It's important for other local funders to step up and help.
Nuala: We encourage other funders to consider local filmmaking as part of their funding strategy. Can you speak to how you've seen filmmaking contribute to community cohesion, healing, or generally impact our relationships with each other and social systems?
Kristal: Film is at the heart of Philadelphia's cultural identity. When you go abroad and tell someone you live in Philly, they will immediately mention Rocky. This movie drives a large amount of the tourism in the city. Yet, the local government sees filmmaking as something frivolous rather than an essential industry.
In a deeper way, film has brought together Philadelphia residents through community screenings and opportunities to discuss pressing issues in our neighborhoods, through vital organizations like cinéSPEAK Under The Stars and Scribe Video Center's Street! Movies. Especially in communities hardest hit by economic or social issues, seeing someone that looks like you on the big screen has a large impact. Youth media organizations like Big Picture Alliance have made filmmaking accessible to youth as a real possibility for a career path. When we have more people working behind-the-scenes that look like us or have our experiences, then films will be able to empower rather than cause harm to communities.
***
Sending gratitude to Kristal and all of the local filmmakers and advocates who have informed our grantmaking processes and support for the film community over the past four years. We take your feedback seriously.
In February of 2023, we will be holding a new film fund cycle and will continue to wrestle with the "funders dilemma" of breadth and depth (spreading funding to more filmmakers while striving to meet the real needs of filmmakers we want to support). We also commit to using the Nonfiction Core Application as a guide next year, adapting it to include narrative, experimental and hybrid film proposals. Making our application process as accessible and simple as possible is important to us, so we will also be adding virtual information sessions for applicants so that they can get feedback from past panelists on their proposals, before submitting them.
To funders who are curious about supporting local filmmakers, we encourage you to reach out to us. There is so much need and power in our film community – and we are eager to collaborate with others and rise to the challenge together.
Photo credit: Barrio de Television, directed by Christina DiPasquale