Looking Ahead: IPMF 2023 Programming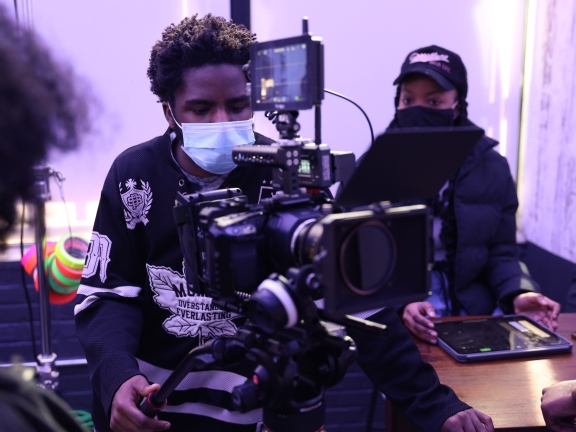 Last year we took time to reflect on IPMF's first three years, as well as to commit to centering racial equity in the organization's operations, governance, and funding. Although we simplified and streamlined our grantmaking, internally, we focused on learning and expanding our capacity in order to better serve you all. Our 2022 grantmaking mainly consisted of renewed current partner grants and grants made through our film nominations process. However, to remain accessible, we invited project ideas to be sent to our info inbox, which led to several grants.
This year, we're taking a slightly different approach, here's what you can expect from our 2023 grantmaking:
Renewing Grants
As we continue applying the lessons and reflections from the past year, we are choosing to go deeper. The majority of renewals this year will go toward key partners who center movements for social change and/or community through media making. There will be fewer grants made to digital equity efforts – and they will focus on community owned internet, organizing and policy.
We hope to inform grantees about renewal decisions by late April. Organizations that are not selected for renewed funding are welcome to apply to IPMF's Community Voices Open Call.
Open Call
In May, we'll be launching our Community Voices open call, which seeks to support community storytelling and media making. In June, a committee of current grantees will review applications and make grant decisions, with IPMF staff forwarding all applications that meet eligibility requirements.
To be eligible for a grant, applicants must have a fiscal sponsor or be a nonprofit, and must be based in the Greater Philadelphia region. The organization or proposed project must focus on community storytelling or media in some capacity.
In early July, we will announce the new grants. We will announce more details about the Open Call in April.
Film Nominations
In early Fall, we will hold our annual film nominations where we invite a group of local filmmakers and experts in the field to nominate film projects. Each nominator will make recommendations on how to distribute up to $100,000 among 2-5 film projects led by local filmmakers. In addition, this committee will consider projects that come to us via our website throughout the year.
Nominators are a diverse cohort made up of past/current IPMF filmmaker grantees and members of the local film community. They have a deep understanding of the local film and media arts landscape.
Small Grant Requests
To remain accessible to emerging ideas, we will still be accepting requests for impromptu project needs on a rolling basis. We are prioritizing organizations/individuals that traditionally have not had access to philanthropic capital, including BIPOC and women-led organizations with operational budgets under $500K.
We ask that your requests are $20,000 and under. Submit requests via the IPMF grants request portal as opposed to the info email.
On the portal, you will find two types of request forms:
Project/Operating Support

We ask that you submit a brief statement of interest for a new project or general operating support. If we're interested in the statement, we will invite you to submit an additional questionnaire to learn more about your project.

Film

Film requests won't need a letter of intent. We will ask you to only fill one application to learn more about the film project and the budget breakdown.
As the requests are reviewed, staff may reach out with follow-up questions. Every applicant will receive a response to their request in a timely manner.
Capacity Building Opportunities
This year, we'll be offering many of the capacity-building workshops and coaching opportunities that past grantees found useful based on feedback, such as the LaSalle Nonprofit Center's Measuring Impact clinic.
We also plan to have a few new workshops as requested by previous grantees, such as budgeting in filmmaking and creating marketing strategies to increase in-person attendance.
Once we solidify this year's capacity-building schedule, we will share those details with all of you.
We welcome your thoughts and feedback as we continue to learn how to do more community-led grantmaking.
Email Nuala Cabral or Samíl Jimenez-Magdaleno with questions about grants, or info@independencemedia.org for general questions about IPMF.