IPMF Statement of Solidarity with Palestine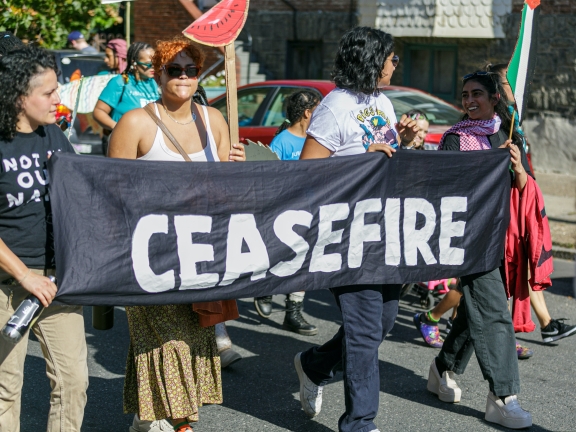 Every day, the team at Independence Public Media Foundation throws our energy and our love into building and strengthening media that amplifies and centers the voices and experiences of Black, Indigenous, people of color, and communities who are the least visible and most marginalized.
We do this work because we know that narratives shape how entire groups of people are seen and treated. It is no exaggeration to say that who gets to tell the stories is often a matter of life and death, and right now, Palestinians are fighting for their lives to be heard and seen as people with families, dreams, dignity, and rights.
Both national and local media have contributed to a distorted narrative that harms the rights of Palestinians to live lives of safety, comfort, stability, and self-determination. This is wrong. In fact, we are witnessing mainstream media playing a central role in obfuscating and spreading disinformation, while downplaying anti-war resistance.
We reject narratives that dehumanize Palestinians and justify the Israeli state's occupation, apartheid and atrocities against the people in Gaza and in the West Bank. We also denounce Islamophobia and anti-Semitism, and the narratives that embolden violence against and hatred of Muslims and Jews around the world.
We commit to lifting up and celebrating the beauty of Palestinian culture, history, and people, including the Palestinian community here in the Philadelphia region. We are proud to support this year's Palestine Writes Festival, media projects like La La Lil Jidar: 20 Years Behind the Apartheid Wall in Palestine and other grantee organizations like Spiral Q who foster multi-racial solidarity efforts, and honor a legacy of liberatory Black + Brown coalition building.
Courage is a core value at IPMF, because we are aware of our position of extreme privilege and power in society as a private foundation. It allows us to hide and do nothing at all in world changing moments like this, and not be held accountable. This is why we commit to leading with courage by doing what is right in partnership with our communities, in service to justice, in struggle and solidarity with oppressed people, over what is comfortable, fast, easy, or protects our own power and resources.
We stand with other funders who are demanding a ceasefire, and we are committing $50,000 in emergency support towards local resistance efforts that aim to contest and shift harmful narratives. We invite other funders to join us in solidarity.
photo credit: Spiral Q